GP Screen Public Hospital Center Conference Room June 2022
Location: Valence, France.
Date: June 2022.
Application Scenario: Public Hospital Centre.
Distributor: GP Screen is a French AV Distribution and Engineering Team Headquartered in Valence, France, delivering quality products and excellent services since 2004. (Check out their website at: http://gp-screen.com/ )

Market Segment: Telehealth and Public Sector.
Summary: The Public Hospital Centre in Valence wanted to set up a videoconferencing system to improve their telehealth and communications services. They needed a comprehensive installation that included high quality audio and video conferencing that was both flexible and efficient. In order to fulfill the client's needs, GP Screen wired up 20 microphones and 4 Angekis Cameras, integrating them into a simple to use but extremely effective system. For this, the Barco (an Angekis Partner Company) Clickshare CX20 was selected, enabling one-click videoconferencing. Using RS-232 and other connectivity solutions, the whole system was set up and will serve to greatly improve the ability of the Valence Public Hospital Centre to serve patients, facilitate exchanges between this Hospital and other Centres, and offer a multitude of other benefits.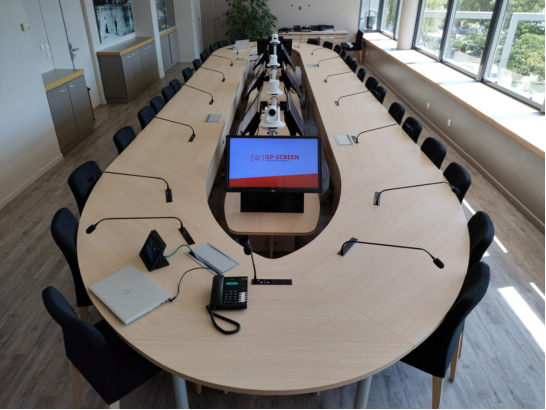 Product: This installation used a number of different Angekis products, each which serves its own niche. The Saber Plus, Saber IP20X, and Saber 5X were all used to maximize flexibility in an economical manner. The Saber Plus and Saber IP20X are both available with Line In Audio options, streamlining the process of Audio and Video integration.
Find out more about the Saber IP20X: https://www.angekis.com/product_detail/Saber%E2%80%94IP20X.html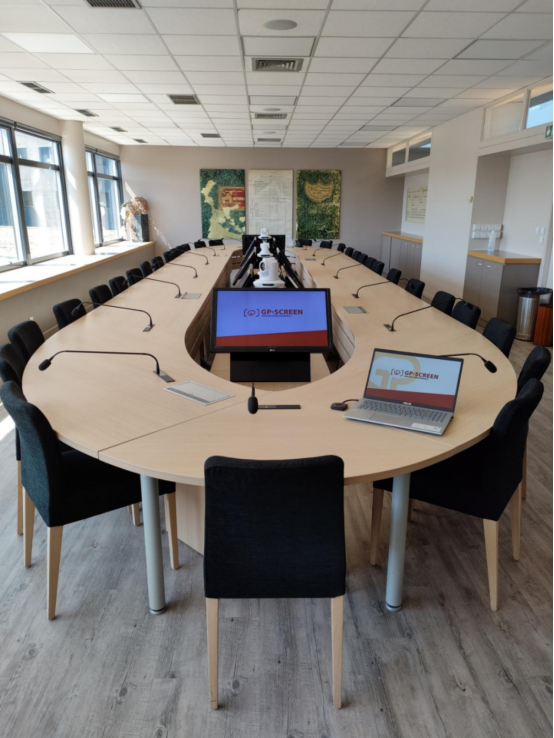 The whole room, with 4 Angekis Cameras set up in a row down the centre.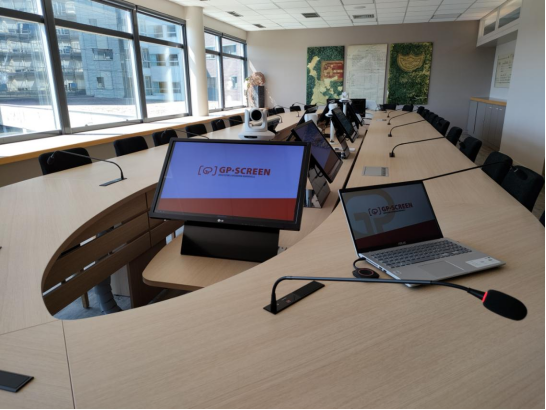 A view of the videoconference setup from the perspective of a participant.