Angekis University Case Study: Interview with Simone Madioni – Director of Audiovisual and Multimedia Services Center – Universita per Stranieri di Siena.
Location: Universita per Stranieri di Siena, Siena, Italy. ( https://www.unistrasi.it/ )
Date: September, 2023.

Application Scenario: Hybrid Learning.

Distributor: Satnet SRL: Since 1998, their mission has been to provide innovative solutions and technologies to improve the modern working experience, making equipped spaces increasingly ergonomic and multi-functional. (Check out their website at: https://satnet.it/ )

Market Segment: Higher Education.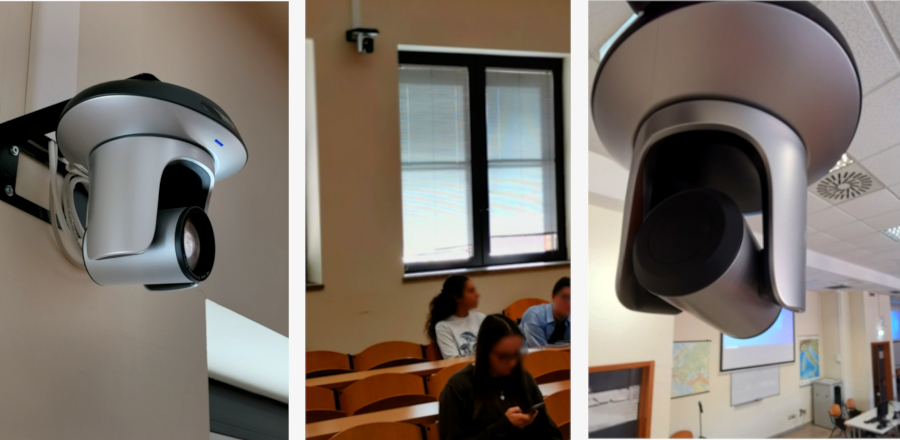 1) How did Angekis cameras first get on your radar?
Simone Madioni: "We became acquainted with Angekis brand cameras through our dealer, one of our most active partners in outfitting our classrooms, and through an independent market research effort."
2. What specific problems were you looking to solve when you started this installation?
"The installation took place during the second wave of the pandemic, so the issue to address was enabling the transmission of lessons from the larger university classrooms, both in remote and hybrid (in-person/remote) modes."
3. What Angekis products did you choose for this installation, and why were they the best fit for your needs?
"The Angekis catalogue had a lot of options, and we chose the Saber Plus PTZ camera, as it ensures a good overall image quality, full HD resolution, seamless integration with our systems, sufficiently powerful optical zoom, and a good value for money."
4. Can you tell us more details about the installation? Like how many cameras you used, where, and how you used them?
"We chose to standardize using one model of Angekis camera, the Saber Plus PTZ, across all of our installations. In total we set up 18 cameras across a number of locations. In some rooms, two cameras were installed, positioned at different angles to offer a different perspective of the classroom."
5. How have the Angekis PTZ cameras performed? What new benefits have they brought to your University?
"The Saber Plus cameras have demonstrated operational efficiency and easy integration with our control systems. Initially, we faced some minor issues related to the firmware, with the cameras periodically disconnecting from our network. However, the system integrator, the distributor, and the manufacturer all collaborated to take swift action and resolve the problem. These things happen, but what matters is how our vendors respond. The use of these products, especially during the pandemic, brought us new capabilities and a new level of efficiency in conducting live events, conferences, and seminars."
6. Any other technology partners in the ecosystem that interoperate with Angekis that we should include?
"Our local and remote classroom management and control system relies on Extron products. The integration of Angekis cameras with these products was therefore required. The integration was simple and functional thanks to the standard drivers and other design choices by Angekis. Graphic interfaces were created to manage the Saber Plus PTZ cameras, enabling the recall of framing presets and management of pan, tilt, and zoom without the need for a remote control. In some larger classrooms, two Angekis cameras were installed and easily managed by the instructor via a touch monitor positioned on the lectern, allowing for proper live streaming or recording control."
7. Please add anything else you would like to share.
"Our needs were to make the use of classroom equipment easy for instructors, allowing them to capture the entire classroom, ensure good quality of the produced images, and enable simple integration with existing systems. Integration with Extron control systems facilitated all this with great ease. Additionally, we needed a product with various video output modes, where Angekis Saber Plus PTZ excelled over competitors, offering HDMI, SDI, USB3.0, and RJ-45 network outputs simultaneously. The integration was straightforward, thanks to the option to use one or more outputs based on the technical setup of the classroom. Opting for a single model also aimed to facilitate easy interchangeability of cameras in case of issues. I also wanted to mention the utility of the Saber Plus' PoE capabilites - it really helps simplify the installation when power is already coming through the Ethernet cable. In this installation we didn't install any normal power lines. So, thank you for an excellent product."
For more news on Satnet SRL, please visit their news page: https://satnet.it/news/
For this Case Study in the original Italian, please visit: https://satnet.it/%f0%9f%8e%af-telecamere-angekis-per-le-lezioni-ibride-e-in-remoto-alluniversita-per-stranieri-di-siena/
Note: This interview has been translated from Italian, with some minor clarifications and formatting changes made for legibility. All changes from the original Italian have been approved by the participants.