Angekis Technology and ABCOM Distribution GITEX 2022 Dubai Announcement

For Immediate Release - 3 October 2022
Contact: Blayne Alan Sapelli
Email: sales@angekis.com
Website: www.angekis.com
Visit Angekis Technology and ABCOM Distribution at GITEX 2022
Angekis Technology and ABCOM Distribution are proud to announce they will be attending GITEX 2022, October 10-14, at the Dubai World Trade Center: Hall 4 Booth D1.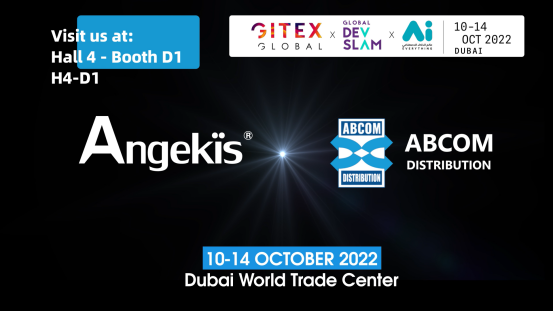 Angekis Technology Co., LTD will be exhibiting alongside their UAE and GCC Distributor, ABCOM Distribution, LLC at GITEX Global 2022, one of the most important Global Technology Expos of the year. Come visit Angekis and ABCOM at Hall 4, Booth D1, from October 10th to the 14th at the Dubai World Trade Center.
"The undisputed tech event for the last 41 years, GITEX GLOBAL features every major technology player, trend and vertical, and it covers sectors including smart cities, cybersecurity, the data economy, mobility, healthcare and telecoms." - GITEX 2022.
Come visit our staff and learn more about the exciting technologies, products, and opportunities Angekis and ABCOM have to offer! Enjoy hands-on testing of Angekis livestreaming cameras, as well as all the other products and services ABCOM provides.
For More Information about GITEX Global 2022 and Registration, visit: https://gitex.com/
To learn more about ABCOM Distribution, please visit: https://www.abcom.ae/
Angekis is a designer and manufacturer of class leading video conferencing equipment. They specialize in PTZ video cameras, as well as speakerphones, controllers, and accessories. They also offer ODM/OEM services. For more information, please contact Catherine at sales@angekis.com, and/or visit their website: www.angekis.com