Angekis Technology Announces Partnership with Sound Control Technologies
FOR IMMEDIATE RELEASE:
Norwalk, Connecticut, USA - 24 April 2023 - Angekis Technology, a leading manufacturer of PTZ cameras, and Sound Control Technologies (SCT), a world class provider of camera and signal integration/extension kits and mounting solutions today announced a partnership certifying the compatibility of Angekis Saber Series Cameras with the SCT RC4-UNI™, RC5-UNI™, RCU2S-BA8™ and RCU2S-B10™ Camera Extension Kits.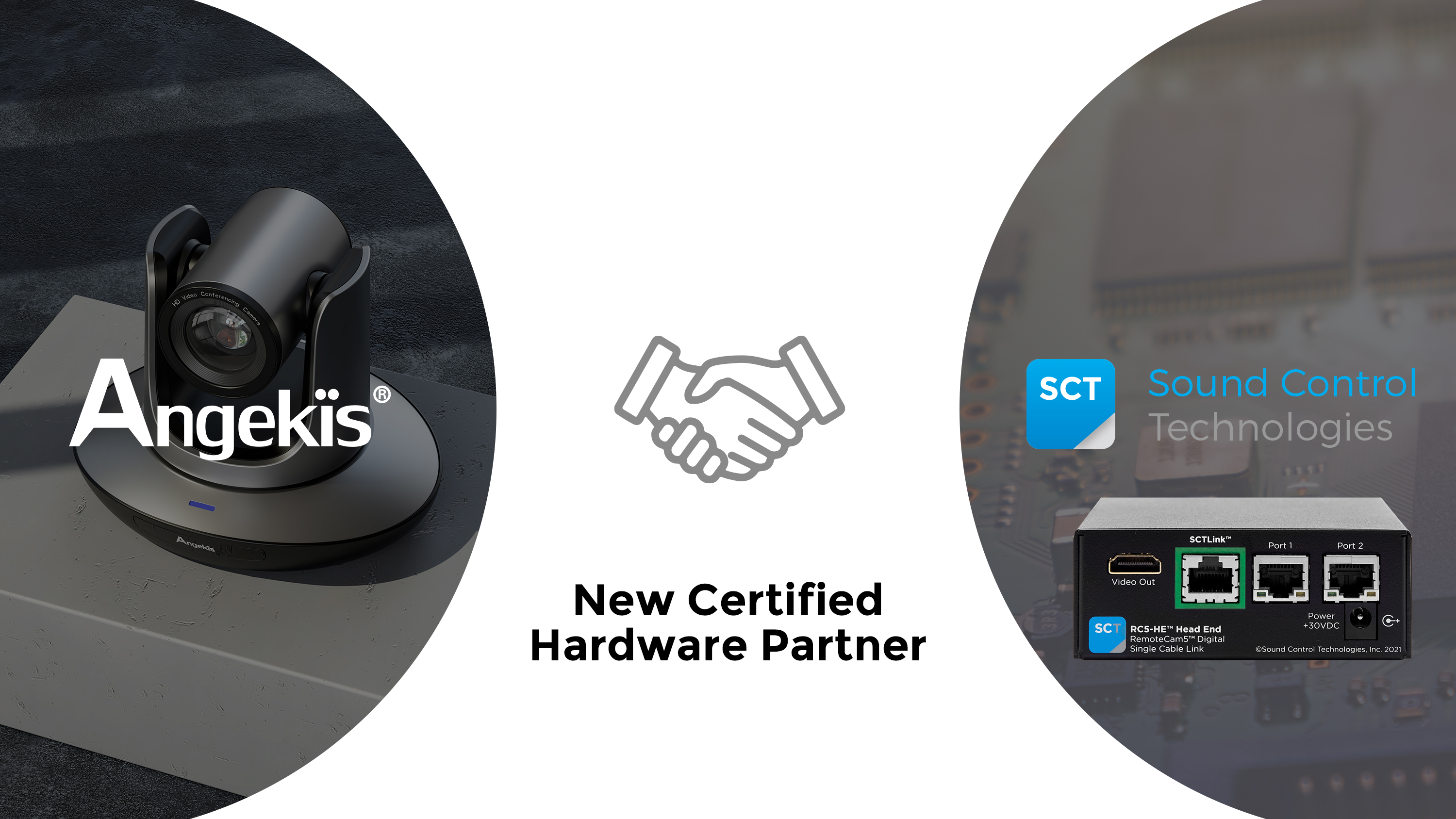 "We are excited to partner with Sound Control Technologies to provide our customers with a certified solution that seamlessly integrates our PTZ cameras with SCT's camera and signal integration/extension kits and mounting solutions," said Alex Xie, CEO of Angekis Technology. "This certification is a testament to our commitment to providing high-quality, reliable products that meet the needs of our customers."
SCT's Camera and Signal integration/extension kits are designed to simplify the installation and management of Angekis cameras, extending HDMI, USB, RS232, Ethernet and Power (kit dependent) over a single Category cable up to 100M. With Angekis Technology's PTZ cameras now officially certified by SCT, customers can have confidence that they are purchasing a fully tested and integrated solution that will provide the best possible performance and reliability.
"We are pleased to certify Angekis Technology's PTZ cameras for use with our Camera and Signal integration/extension kits and mounting solutions," said Chris Audette, Business Development at Sound Control Technologies. "By partnering with Angekis Technology, and adding their cameras to our list of certified manufacturers, we are able to offer our customers a wider range of high-quality, reliable PTZ camera solutions."
About Angekis Technology:
Angekis is a designer and manufacturer of class leading video conferencing, livestreaming, and recording equipment, specializing in PTZ cameras. They also offer ODM/OEM services. For more information, please contact Catherine at sales@angekis.com, and/or visit their website: www.angekis.com
About Sound Control Technologies:
Sound Control Technologies designs and manufactures industry exclusive Camera and Signal integration solutions that deliver Power, Control, IR, Audio and Video over single CAT5e or CAT6 cabling up to 100 Meters. For more information, visit www.soundcontrol.net
Media Contact:
Name: Blayne Sapelli
Email: blanye@angekis.com
Phone: +86 134.1861.1816