With open spaces and huddle style rooms now becoming the norm, the Angekis One Touch Camera provides a superior all in one A/V experience.

Renowned for their class leading imagery in their camera systems, Angekis Technology have announced a premier all in one video conferencing A/V solution, the One Touch.

Designed specifically for huddle rooms, small meeting rooms (including open meeting spaces) the One Touch boasts some very impressive features for a professional A/V system under €1100.

The One Touch captures an impressive 112 degree field of view at 4K and with built in group auto-framing, the 5x zoom can automatically adjust the frame to fit in all participants in the room. Importantly the group autoframing has been calibrated to respond quickly and provide a smooth transition.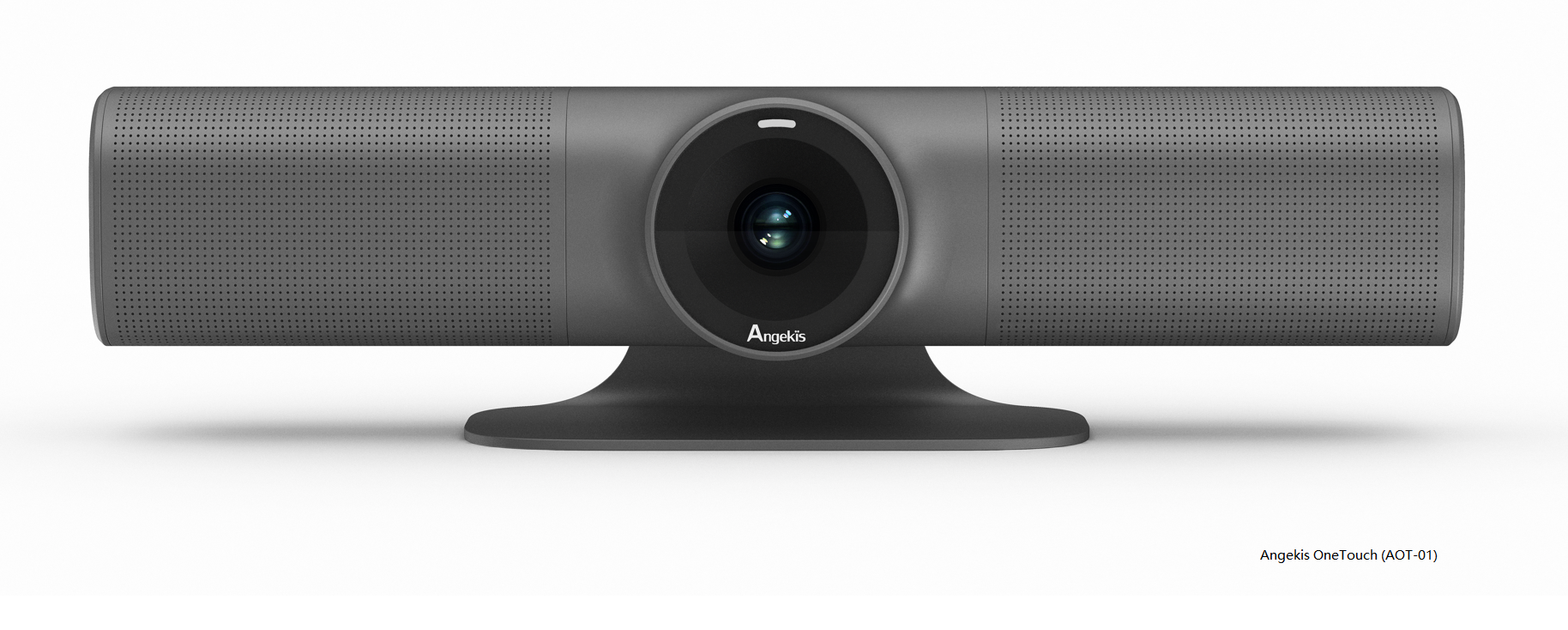 Encompassing audio technology normally only found in systems more than twice the price, the One Touch boasts 4 x beam forming high fidelity mic array with echo cancellation, dynamic noise control, full duplex, dsp processing and an enormous audio pickup up to 5 metres (16').

Simply connect the One Touch via USB 3.0, HDMI or RJ45 for POE. The One Touch can be mounted on top or below the monitor or on the wall and its sleek Belgian design ensures it compliments any professional meeting space.

The One Touch ticks every box for success in these meeting spaces. Angekis One Touch video conferencing Camera is a simple and sleek design, combined with its high tech features packed into an affordable price with a 3 year warranty, really make it a stand out solution that's purpose built for small conference rooms" notes James Cross, Europe Account Manager for Angekis.

But the new releases don't stop there!

With Angekis winning the ISE Best in Show Awards for 2016 and 2018 and having become widely known as a brand with class leading imagery in their cameras, it made perfect sense for Newtek to partner with the best. The Angekis Saber IP and Saber 4K PTZ cameras now come in NDI versions.

The Saber has been the hero camera In the Angekis line for over 4 years now, for medium to large rooms requiring the most premium video quality and features but at half the price of some of the big names in the Industry.

The Angekis NDI PTZ camera include 4K to 1080p FHD versions and the cameras offer 20X or 12X optical zoom and can output HD video and audio while receiving the control signal and power over a single connection.

Both the Saber 4k and Saber IP combine full video output interface (NDI, 3G-SDL HDMI and USB3.0), for various live streaming applications and utilise simultaneous output. Integrated with NewTek's NDI®, the Angekis NDI PTZ cameras create a plug-and-play environment for live streaming, making it possible to produce abundant and diverse live content.

All Angekis NDI video cameras support power, video/audio and control, via a single Ethernet cable, simplifying setup and installation for live streaming systems. The Angekis NDI range feature broadcast frame rates and NDI video outputs for video production professionals to deploy.

Utilizing the latest professional camera control technologies, remote camera operation has never been this easy. Broadcasters simply connect to an IP network, then choose from professional 3G SDI connected workflows, Ethernet connected NDI workflows, and traditional HDMI workflows, all simultaneously. Utilizing optical zoom lenses up to 20X, video productions can now remotely capture a close up shot at up to 52 (16 meters) away.

James Cross elaborated: "There's a wide range of NDI cameras on the market, however we find more and more businesses coming to us seeking tine image quality and features of premium models that are normally above $5k but well outside of their budgets. This is where Angekis really comes into play as we compete strongly at the premium level but without the price tag. Furthermore, our customers rest easy knowing our products are backed by an industry leading 3 year warran1y".

Both the Angekis Saber IP NDI and Saber 4K NDI are available now The One Touch NDI will be released at a later date, so watch this space.